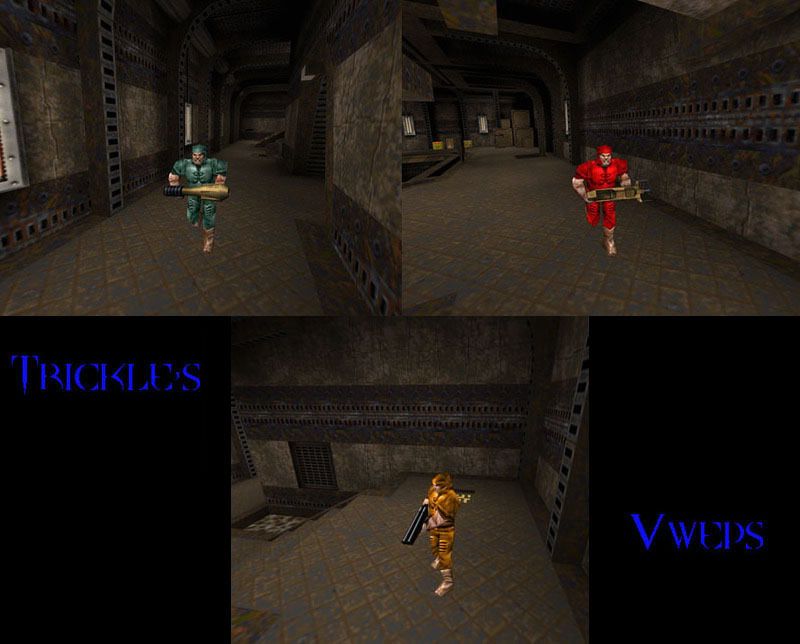 9/2/08
final sg is finished!
click here to download the final package!
9/1/08
Ruohis has finished the model! I'm going to work on it to complete the vwep package. huge thanks to him! I should be done with it soon! =]
8/29/08:
So, I was using a real old version of qME that caused most of the models to be a real big
size(some models were over 6 MBs). I have opened all the models and saved them in one of the latest versions of qME and it lowered down very well. Me and st3ady are working on not only a w_srifle model, but a whole new v_srifle as well!
- here is a comparison shot of what St3ady has worked on so far over the old
v_srifle
stay tuned for the latest progress on the new sg!
8/26/08:
Ruohis is currently helping me make a special w_shot that looks a lot more like the real thing! I still intend it to have a PrimeviL styled texture and I will add it to the vwep package. Check out the latest downloads and progress to see a wip screenshot! The progress with MegaTF vweps is going well, take a look at the MegaTF booth for new vwep screenshots!
8/23/08:
I decided to keep the 8-bit texture for the sg, it already looks nice. Everything is all finished, the w_nail is nice and fluent when it fires ingame! Aside from this, I'm working on vweps for MegaTF. I have already finished the w_bat and w_chain. The whole package is finished!
click here!
to get the whole vwep package!
8/20/08:
I have finished both the w_shot and the w_nail2! I even added a firing animation for it! Just one model to do, this will be the real challenge. The g_nail.mdl has exactly 224 objects to attach. so as soon as I am done positioning, I'm going to need to take some good time figuring out what objects will be attached when it comes to the firing animation. I also still need to make a 24-bit texture for the sg. anyways, after this! I will be releasing an all in one package! =]
8/18/08:
I recently finished up Plague's grenade launcher and fixed the size of the double barrel shotgun. I hope to plow through the last three models!
whats left:
- the shotgun
I plan to use the g model from QoetiaB4(which I think is a modified version of the DME shotgun) and re-texture it the way PrimeeviL has his v_shot.mdl
- Plague's nail guns
This is will be interesting! I'm going to animate the firing animation for both, Which will take quite a bit of time being that there are so many objects in both these modes..but it should look pretty awesome!
8/17/08:
With the addition of vweps added to KTX and being visible in mvds, I took my time out to
start working on Plague's and PrimeviL's 21st century models/textures. I started towards the end of 2007 and picked up the project again after figuring out how to position the models properly with the player model. So far I'm three models in and plan to finish them all before the end of summer!
- Trickle
Link To the Latest Downloads And Progress:
http://www.quakeworld.nu/forum/viewtopic.php?id=2595/
Popular Vwep Enabled Servers:
Elvis Victims FFA - 194.190.194.178:27500
[Amnesia] MegaTF Co-Op Server - 209.9.227.18:27600